Break-in duo 'tried to negotiate charges with police'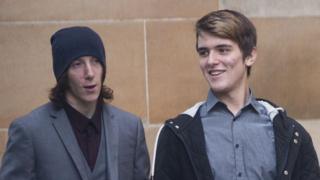 Two men who broke into a Dundee office tried to negotiate with arresting officers what they should be charged with, a court heard.
Reece Hunt and Lee Armstrong wore heavy orange gloves to avoid leaving DNA and fingerprints at Dundee's Figure 8 Consultancy Services.
But the pair broke in while occupants of several neighbouring properties watched them.
Both men were ordered to carry out unpaid work by a sheriff.
Dundee Sheriff Court was told that witnesses called the police, who caught the men moments after they had climbed into the office through a first-floor window.
Hunt and Armstrong said a stolen laptop computer had been stashed in a rucksack.
The court heard that they suggested to the police officers what they should be charged with.
'Being stupid'
Armstrong told officers: "I'm not a child. I'm fully aware that I shouldn't have been breaking into a building.
"A charge of breaking and entering would be fair. A charge of theft wouldn't."
Hunt said: "That's my bag. There's a laptop inside it. Nothing else. We're just being stupid."
He told the officers Armstrong had told him to put the computer in his bag.
The court heard that Armstrong had previously served time in prison in connection with assault and robbery.
Hunt, 18, and Armstrong, 23, both from Dundee, pleaded guilty to breaking into commercial premises in Whitehall Street and stealing a laptop.
Solicitor George Donnelly, representing Armstrong, said: "I ask the court accepts this was a one-off, silly, silly escapade."
Sheriff Lorna Drummond QC imposed community payback orders on both men - with 80 hours unpaid work for Hunt and 130 hours for Armstrong.
She said: "Breaking in to any premises is always serious."