The View singer's ukulele lessons are a hit with Thai orphans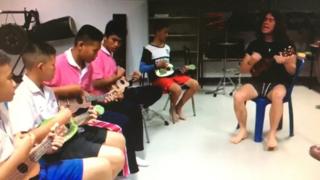 The View singer Kyle Falconer has been filmed giving music lessons to orphans during his stay at a Thai rehab centre.
The Dundee musician and children from a local orphanage are seen playing Stand by Me on ukuleles in a video posted on Lanna Rehab's Facebook page.
The 29-year-old checked himself into the centre near Chiang Mai after being removed from a plane in June after allegedly causing it to be diverted.
Lanna Rehab said it was "proud" of Mr Falconer's community work.
It posted: "Check out how far the kids have progressed, the kids even do lead solos each now.
"I'm not sure who got more out of this project, Kyle or the kids."
The centre said it had set up the Lanna Foundation to contribute funds to the Im Jai School, following the success of Mr Falconer's work with the orphans.
The View released their fifth album Ropewalk last year.