Couple cleared of 'police abduction'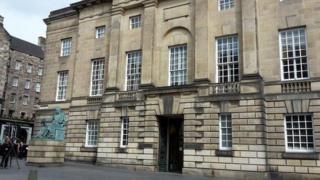 A couple have been cleared of abducting two police officers at their home and threatening them with an air rifle.
Jurors returned not proven verdicts on the charges against Philip Moreton, 31, and Cheyrell Davie, 35.
Prosecutors claimed Mr Moreton pointed an air rifle at two officers after they tried to detain him in relation to a domestic abuse allegation.
They alleged Ms Davie then prevented them from leaving their Angus farm house by locking the doors.
The charges were alleged to have taken place at the couple's property near Kirriemuir on 4 March this year.
Both Mr Moreton and Ms Davie denied the allegations and said during their evidence that the officers were mistaken over what had happened.
During evidence, PC Gail Beattie,48, told prosecution lawyer Alyson Forbes that she thought she saw Mr Moreton point a weapon at her.
She said: "Mr Moreton was standing there with a rifle. He was pointing it towards me and Constable Smith."
When Ms Forbes asked her what she thought when she saw the weapon, PC Beattie replied: "I think I thought this is it. This is my moment."
Acted legally
PC Gemma Smith told the court that Mr Moreton also produced a rifle.
The court heard PC Smith say that Mr Moreton was standing in a cupboard at the time.
PC Smith said she shut the cupboard door on Mr Moreton and that she and her colleague used their weight to keep him inside.
She said: "I shut the door. I was terrified. I used my radio to inform my control room that he had a gun.
"He shouted "it's not a gun."
"I knew it was definitely a gun. I put my back to the door and braced myself against the wall in a bid to contain him there."
PC Smith also said that Ms Davie had locked her and PC Beattie inside their property.
The officer said Ms Davie later allowed them to both leave.
Jurors returned their not proven verdicts following a trial at the High Court in Edinburgh.