Exclusions rate cut at Dundee schools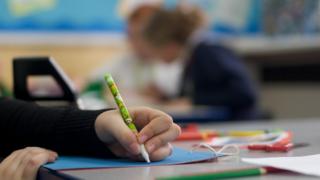 Exclusions from Dundee schools now meet the national average after being cut from the highest rate in Scotland.
The Dundee exclusions figure sat at 0.11% in 2012/13 compared with a Scottish figure of 0.04%.
Dundee City Council's children and families service committee convener Stewart Hunter said the city's exclusion figure had been reduced to 0.04% in 2015/16.
A report on school attendance will go before councillors next week.
Mr Hunter said: "A huge amount of work has been ongoing in our schools through a number of innovative projects.
"We have been assisting young people to focus on better outcomes rather than face the prospect of further exclusion.
"Pupils are being helped to address their behaviour, realise the negative impact that it has on them and then move forward to gain better chances for themselves."
Attendance rates at Dundee primary and secondary schools have increased from 92.3% to 92.5% over the same period.
Mr Hunter said: "Apart from the impact on a pupil's education, there is also the danger that children not attending school are putting themselves at risk in our communities.
"This is something that we want to stop."