Exam result joy as triplets triumph with 16 straight A passes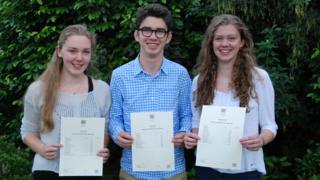 A set of Broughty Ferry triplets have achieved a combined 16 straight A passes in their Higher results.
Kristin, Gregor and Alexandra Vagg, who are 16, sat their exams at Dundee High School.
Kristin was awarded six A passes, including English, French and History, with her brother and sister each achieving five A passes.
The triplets said they were "relieved and ecstatic" after receiving their exam results on Tuesday.
Kristin did one extra subject, Classical Studies, which she studied for in her own time.
She said: "We're all very happy with our results.
"We're competitive but of course we're really pleased for each other."
Alexandra said, "I was very, very happy. We weren't sure how we had done in a couple of subjects."
Gregor said: "I was ecstatic when I received my results.
"There were lots of nerves and a lot of tension in the house last night."
Rector of the High School of Dundee, Dr John Halliday: "We are very pleased for all of our pupils who have been rewarded for all the hard work which they have put into their studies with an excellent set of exam results.
"However, to have 16 Higher A grades within one household is highly unusual to say the least and Gregor, Kristin and Alexandra should be extremely proud of their efforts."