RSPB use contraceptive darts to control Loch Lomond goats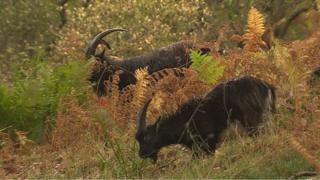 RSPB Scotland has been using contraceptive darts to control the wild goat population on the east side of Loch Lomond.
The goats are popular with locals and visitors, but the charity said they were damaging a conservation area.
A controversial cull of the animals on the RSPB's Inversnaid reserve three years ago resulted in threats being made to the organisation's staff.
The drugs effectively stop the goats producing testosterone and oestrogen.
This prevents them from engaging in sexual activity and reproducing.
RSPB said about a third of the goat population had been darted by marksmen who spent about two weeks on site. Information about the exercise was not made public until after it happened because of the previous threats.
Dave Beaumont, the RSPB's reserves manager for south Scotland said the charity hoped that the use of the drug would bring the population of goats down without any of them having to be culled.
"The drug is administered by a dart gun from quite close range. The goats react as if they've been stung by a bee and don't even run away in some instances and the drug will act for three years," he said.
"The last thing we really want to do as a conservation organisation is to be shooting things. Trying to find a non-lethal method here has been particularly challenging.
"We could fence the whole thing and move any herbivores to the outside, but that would in effect keep them away from any winter shelter or food. They would starve or die of hypothermia on the hill."
The goat population at Inversnaid has historic links back to Robert the Bruce.
Fiona McEwen, who chairs the local Strathard Community Council, said she wanted to see more information on the numbers.
"The goats are a symbol of Inversnaid and have been very important to both local people and visitors to the area for a long time, including folk who are walking the West Highland Way," she told BBC Radio Scotland.
"We're really concerned that the RSBP make sure that the herd remains viable and stays there in the future."