Falkirk's 'Cock o' the Steeple' removed for restoration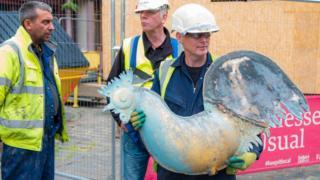 Falkirk Steeple's weather vane cockerel has left its perch for the first time in 89 years as part of a £750,000 restoration project.
The "cock o' the steeple" was last officially removed in 1924 for refurbishment but was knocked to the ground by lightning three years later.
Work is also being carried out on the steeple's clock face and window.
The project is part of a £5.6m Townscape Heritage Initiative in Falkirk town centre.
The steeple restoration is expected to be completed by December.
Ian Scott, from the Falkirk Local History Society. said: "I am delighted that the good old "cock o' the steeple" which has been watching over Falkirk bairns since 1814 has flown down to ground level for a well-earned make over.
"Hopefully it will not be too long before it is back in its rightful place fit and ready to face the next century or two."
Leader of Falkirk Council Craig Martin said: "The Falkirk Steeple is a real local treasure and iconic symbol for the area.
"Removal and restoration of the weather vane signifies an important milestone for the team."