Train station rampage man sentenced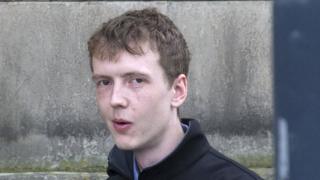 A man who smashed up a train and attacked ScotRail staff and police with a fire extinguisher has been ordered to carry out 300 hours of unpaid work.
Neal Mackay was also told to pay the train operator £2,400 in compensation after the late-night drunken rampage in Perth last July.
A court heard that Mackay had to be locked inside a train and that CS spray had no effect on him.
Mackay was also sentenced to supervision and a four-month curfew.
Perth Sheriff Court was told that Mackay was seen walking on the rail line at Perth station by a staff member, who sounded a horn to warn him.
Depute fiscal Rebecca Kynaston said: "When he stopped and went to look for the accused he heard a horn sounding on platform four.
"There were two unoccupied trains. He observed the front cabin door of the rear train lying open and he could hear banging from within."
Mackay was seen in the carriage removing the pin from a fire extinguisher which he then discharged in the man's face from a distance of two feet.
Smashed windows
Mackay then moved to another train and was seen sounding the horn and pressing buttons on the driver's console before letting off an extinguisher across the control panel.
The staff member then disabled the train doors so Mackay could not escape.
Numerous station staff and several police officers arrived at the scene, but attempts to reason with Mackay failed and he continued to smash up the train carriages.
He used the fire extinguishers to smash two windows and fired them at close range at the faces of another ScotRail employee and two police officers.
The court heard that Mackay was eventually disarmed and that the total cost of the damage to the trains was £2,342.
Solicitor Nicky Brown, defending, said: "He has no memory at all of events. At the outset his behaviour is bizarre and then becomes something else when the authorities get involved.
"It appears to be an alcohol-fuelled incident that got out of control."
Mackay, 25, Anne Street, Alloa, admitted causing the damage on 31 July last year in addition to four charges of assault.
Sheriff Fiona Tait said: "Station staff and police should not have to deal with that.
"He has caused a lot of damage."