Men who torched policeman's car jailed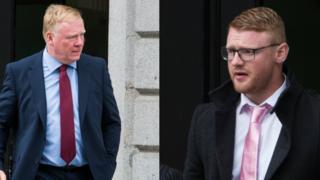 Two men have been jailed for a total of 11 years following a fire attack on a car outside a policeman's Dundee home.
Businessman William Handy and his personal trainer Craig Guest plotted to set fire to the car after Handy became angry at being stopped by the officer.
Handy was jailed for five years and Guest for six years at the High Court in Edinburgh.
Judge Lord Woolman said the blaze was calculated to violate the home and private live of PC David Farr.
He said it was fortunate that the fuel tank of the vehicle did not explode.
Guest, 32, of Dundee, admitted wilfully setting fire to the car on 23 June 2014 while Handy, 54, of Errol, Perthshire, was found guilty of the same charge after a trial.
The court heard Handy believed that the police were waging "an unfair campaign of harassment" against him early in 2014.
At one stage Handy was seen driving on the Perth to Dundee road by police and was signalled to stop. After he was pulled over he was placed in handcuffs.
Expressed anger
Handy then used a website to search for the addresses of the constables and on several occasions in June expressed anger towards the police.
Guest was acting as a personal fitness trainer to Handy, who passed the officer's address to him and claimed he was being hounded the police.
The constable and his family were wakened in the early hours of the morning by the sound of a car alarm.
When they went to the window they saw his wife's car, which was parked in front of their garage, was ablaze.
Officers investigating the blaze discovered it had been started deliberately using petrol.
A tub which had held fuel was recovered and found to have Guest's DNA.
Guest, who was in debt, claimed that someone told him they wanted a car set alight but refused to name the person for fear of reprisals.
Defence counsel Gary Allan QC said: "As a quid pro quo for the extinguishing of the debt a proposal was made that he would provide a service, a criminal service, in carrying out the act to which he has now pled guilty."