GlaxoSmithKline announces £110m investment at Montrose site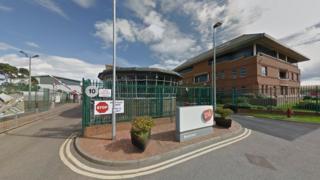 A major pharmaceutical firm is to invest £110m developing its operations at its site in Angus.
GlaxoSmithKline (GSK) is to build a state of the art production facility at Montrose to manufacture respiratory medicines.
The company said it would support employment at the site, which currently has 450 staff, and could lead to new job opportunities.
Most of the medicines are destined for the export market.
The Montrose announcement is part of a £275m investment by GSK to expand three UK sites.
The company will also develop facilities at Barnard Castle in County Durham and Ware in Hertfordshire.
Skilled workforce
Chief executive Andrew Witty said: "Today's announcement reflects further investment to support our pharmaceutical pipeline and meet growing demand for our innovative portfolio of newly launched products.
"It is testament to our skilled UK workforce and the country's leading position in life sciences that we are making these investments in advanced manufacturing here.
"From their manufacture in the UK, many of these medicines will be sent to patients around the world."
The Montrose plant produces active ingredients for a number of medicines in important areas such as respiratory disease and HIV/AIDS.
There were some fears that pharmaceutical firms such as GSK and AstraZeneca may seek to move their headquarters following the outcome of the EU referendum.
Mr Witty had said prior to the vote that leaving the EU "would create uncertainty and potentially add complexity" for the UK's life sciences sector.
Minister for Business, Innovation and Energy Paul Wheelhouse said: "GSK is a hugely important contributor to our economy so this is fantastic news for Montrose, for Scotland and for our life sciences industry.
"Life sciences is a vital industry in Scotland, employing more than 35,000 people, and as we're seeing, one which is a world leader.
"This success is built on our strong academic base and the cutting edge research going on across Scotland."
---
Analysis: Simon Jack, BBC business editor
GSK's outgoing chief executive Sir Andrew Witty has previously said that a vote to leave the EU would be "a mistake" as the company benefited from the free movement of highly qualified scientists across Europe and a single EU framework for regulating and approving drugs.
But the company has clearly decided that Britain's highly-skilled workforce, relatively low tax rates, and incentives for investing in research outweigh Brexit concerns.
There is also the benefit of a cheaper pound when producing products bound for foreign markets.
Sterling has fallen 10% against the dollar and the euro since the referendum on 24 June and although GSK results also due on Wednesday only capture a week of post-Brexit trading, it's expected to provide a significant boost to its full year earnings.
The decision will, of course, be welcomed by a government keen to demonstrate that the UK remains an attractive place to invest.
Especially because despite a series of high profile investments in the UK since the referendum, recent economic surveys have pointed to a decline in business confidence.