Pensioner who encouraged man to sexually abuse child is jailed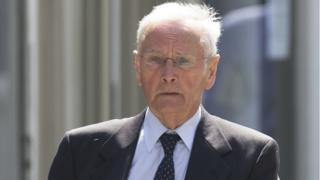 A Perthshire pensioner who encouraged a man to abuse a child and send him images of the assault has been jailed for 20 months.
John Sutherland, 79, described a computer crash that caused the loss of access to his collection of child abuse material as "a mini disaster".
A court heard Sutherland traded images with the abuser, telling him he "loved your exploits with your new one".
He later told police he was a member of a "photography club".
Sheriff William Wood told Sutherland he had "singularly failed to demonstrate any remorse" and also placed him on the sex offenders register for 10 years.
He was given a further three-year extended sentence after Perth Sheriff Court was told he had continued viewing child abuse images while his social work report was being prepared.
The court heard that Sutherland sent sex abuse pictures by email to another man who was returning footage of him sexually assaulting a young boy.
Sutherland said: "Loved your exploits with your new one. Send me a picture so that I can enjoy the next episode."
Inciting others
Depute fiscal Sue Ruta told the court that police raided Sutherland's Auchterarder home following a tip-off that he had been uploading child abuse material.
Ms Ruta said: "A total of 182 accessible still images of children and 116 moving images were recovered.
"The images were predominantly of male children ranging in age from three to 16.
"The accused had sent three emails sharing indecent images with attachments on 29 May 2015."
Sutherland was interviewed and told police: "I am a member of a photography club and I send photographs. I didn't know that was illegal."
He admitted distributing indecent images of children on 29 May last year.
He also admitted possessing similar material between 23 March and 30 July 2015.
Solicitor Billy Somerville, defending, said Sutherland had never been in trouble before and asked the court to impose a community-based sentence to avoid sending his client to jail.
Sheriff Wood said Sutherland had been inciting others to carry out indecent acts on children and said that left him no option but to send the pensioner to prison.