Warning over green pills at T in the Park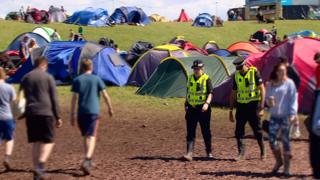 A small number of green pills, stamped with a "Rolex-type" logo, have been recovered at the T in the Park music festival, according to Police Scotland.
Officers warned that pills similar to these have caused serious harm in the past.
They said there was no evidence to link to discovery of the tablets with any other incidents at the festival.
Two 17-year-olds died at the campsite on Friday. The deaths were not suspicious.
They have been named locally as Megan Bell from Seaham in County Durham and Peter MacCallum from Lochgilphead, Argyll.
Police said they were looking at the possibility that the deaths, which happened in separate incidents, were drug-related.
On Saturday, T in the Park organisers urged anyone with drugs at the festival to dump them in special bins around the site.
They said people who got rid of their drugs would not get into trouble.
By Sunday morning, a total of 40 arrests had been made across the event.
A cash machine containing a "significant" amount of money was stolen from the festival's main arena sometime between midnight on Thursday and 07:00 on Friday.
Commenting on the green pills, a Police Scotland spokesman said: "Pills similar to these have caused serious harm in the past although there is no evidence at present to link these to any other incidents at the festival.
"People are reminded there is no safe way of taking drugs and T in the Park has a zero tolerance drugs policy."
The Red Hot Chili Peppers brought the festival to a close on Sunday evening.
Across the weekend, revellers braved the mud to enjoy performances by some of the country's top artists.
Organisers have hailed this year's event as "unforgettable".