Dundee's 'unsung heroine' Mary Lily Walker commemorated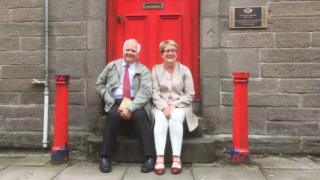 A plaque marking the birthplace of Victorian social reformer Mary Lily Walker has been unveiled in Dundee.
The ceremony at the Perth Road house took place on the 153rd anniversary of Mary Lily Walker's birth.
One of the first graduates of University College Dundee, she is credited with spearheading the social work infrastructure of the city.
Mary Lily Walker died in Dundee in 1913, four days before her 50th birthday.
She was the first to gather evidence on housing and the health of women working in Dundee's jute factories.
Eddie Small, author of Mary Lily Walker: Forgotten Visionary of Dundee, said she was an "unsung heroine."
He said: "The changes that she made influenced government policy.
"It really did change things at times when things were in dire conditions. Because of that, she encouraged social work to blossom.
"Some people even say the Suffragette movement was, in a way, imbued by the spirit she had.
"You could say she is Scotland's first early years champion. For her, the children are everything."
The plaque was funded by Historic Scotland and was the idea of Lesley Nicoll from Dundee University's campus services.
She said: "I thought there should be a plaque in recognition of what Mary Lily Walker did for the community and Dundee, like better housing and sanitary conditions.
"She's an inspiration. She gathered numbers and figures and got better family conditions for mothers with children."