CCTV image of man suspected of threatening behaviour on train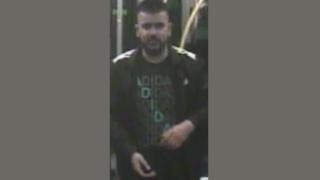 British Transport Police have issued a CCTV image of a suspect following a report of threatening and abusive behaviour on a train two months ago.
The incident happened on the 22:49 Glasgow to Falkirk High service on 11 April.
Officers said the man, who is in his mid 20s, left the train at Falkirk High railway station.
He was described as being about 5ft 10in tall, with short black hair and a black beard.
He was wearing black tracksuit trousers, a black jacket with white shoulder panels and a dark top with an Adidas design on the front.