Man fined and banned from driving after 120mph police chase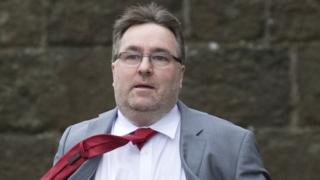 A businessman who crashed after trying to outrun police during a 120mph chase has been fined £2,000.
Property developer Mark Harris, from Invergowrie, was told he had committed "a quite appalling course of driving".
Harris was found guilty of dangerous driving and failing to stop for the police but cleared of failing to give a blood specimen.
Sheriff William Woods also disqualified him from driving for 30 months following a week-long trial.
Harris claimed during the trial that he lost control in the village of Longforgan, in Perth and Kinross, because he swerved to avoid hitting a deer on the road.
He said: "I would say the manner of the driving was not dangerous, but I would accept the speed I was doing was careless. I had been drinking."
"I was doing in excess of 90 miles per hour.
"I was fairly comfortable with my speed and capability for driving. I didn't see a problem."
Lost control
Harris said he had pulled off the A90 into Longforgan but denied driving at double the 30mph limit when he lost control and smashed into a wall.
Depute fiscal Bill Kermode told the court: "He did not slow down or pull in.
"It would have been absolutely clear to him the police were solely interested in his vehicle.
"It was only brought to a halt by a collision which disabled his vehicle."
Sheriff William Wood said: "This was in my view a quite appalling course of driving, not only on the A90, but on the narrow streets of Longforgan, where he lost control.
"He sought to outrun the police by his speed. I found his account of a deer in the road to be incredible.
"I have no reason to doubt the police officers' evidence about speed.
"When travelling at 120mph they didn't seem to be gaining.
"I reject Mr Harris's self-serving evidence."