University seeks to reassure EU students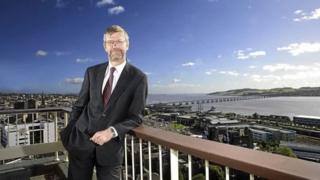 The principal of Dundee University has assured its EU staff and students that "nothing will change in the short term" following the referendum result.
Prof Sir Pete Downes said the university would cover tuition fees for successful EU applicants in the next year if there was a change in funding.
He said the referendum result would "undoubtedly have implications for higher education".
Hundreds of Dundee University students from the EU graduated last week.
Prof Downes said: "Our immediate priority is to assure staff and students from the EU that nothing will change in the short term.
"Given the complexity of exit negotiations from the EU it is extremely unlikely that the current process and funding arrangements for students will change significantly in the short term.
"We are therefore encouraging those who are considering applying for 2017 entry onwards to do so in the usual way."
Prof Downes said there was no immediate impact on initiatives that were a core part of its EU engagement, including in research and the Erasmus exchange schemes.
He said: "For EU applicants who have been made an offer to begin study at Dundee in autumn 2016, January 2017, or September 2017 deferred entry, I can assure them that if there is any change in funding for EU students during their course of study, the university will cover the cost of any tuition fees to allow them to complete their degree studies."