Former soldier fined for kicking Ryder Cup security manager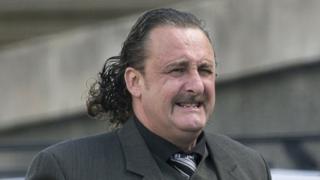 A former soldier who kicked a Ryder Cup security manager in the groin has been ordered to pay his victim £400 compensation.
Harry Lawrence, 52, was also fined £500 after admitting attacking James Storer at the golf tournament at Gleneagles.
Lawrence ran up behind Mr Storer and kicked him between the legs in an attack described as a "cheap shot".
Mr Storer told Perth Sheriff Court it was the "worst pain" he had ever felt.
Lawrence, of Cupar, admitted committing the assault in September 2014.
The court heard that Lawrence had served in the military for 25 years and had left with the rank of Sergeant Major.
Mr Storer, who was working as an event security manager at the Ryder Cup, denied sparking the incident by using a derogatory term about the Army Reserve.
Security supervisor Michael Sharkey told the court that he and a colleague were heading for a meal break when they came across Lawrence and other men blocking a vehicle entrance.
"They seemed intoxicated," he said. "They were loud and there seemed to be some sort of argument taking place about army stuff.
"There were a number of men wearing polo shirts with an army emblem.
"When my colleague Jamie said that he was ex-army, things turned sour."
'Worst pain'
Mr Sharkey said he became involved with one male who he could not identify.
He said: "I was pressed against a car and he was in my face. He became terribly abusive and struck me to the left hand side of my face."
He said his colleague intervened and ended up on top of the man on the ground after tripping over some steel matting.
Lawrence then joined in the brawl and several people were on the ground.
Mr Sharkey said Lawrence was "shouting and bawling" and then ran up to Mr Storer and kicked him between the legs.
Mr Storer told the court: "I felt the worst pain I have ever felt in my life.
"I realised someone had kicked me from behind between my legs.
"I turned round to see Mr Lawrence on top of me. It was an absolute cheap shot."