Police 'shocked' after after WW1 shell handed in to station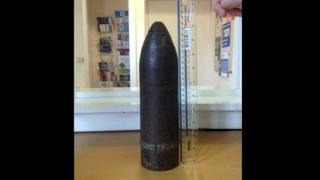 Police in a Stirlingshire station were left "shocked" after a man in his 80s handed in an unexploded shell dating back to World War One.
The pensioner asked officers in Balfron where he could dispose of the munition, after learning about the recent air weapons amnesty.
It was assessed by a bomb disposal team on nearby farmland, but declared safe.
The shell had been in the man's family since the end of the conflict.
Sgt David McNally said: "The gentleman handed over the shell with the best of intentions.
"However I think it is fair to say if gave everyone in the station a bit of a shock.
"We are of course pleased that our air weapon surrender campaign is being recognised by the public and that is to be encouraged.
"However, I would urge anyone who wants to hand over an explosive device to please contact police immediately on 101."