Man jailed for hepatitis C spit attack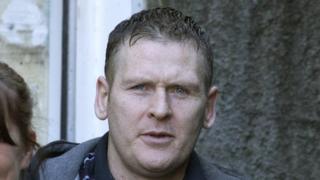 A hepatitis C carrier who wiped infected blood on a police officer's face then spat on a prosecutor has been jailed for five years.
Scott Townsley told officers he "had the virus" and "was going to infect them all" when he launched the attack at the Wickes store in Perth.
He then assaulted a depute fiscal when she opposed an application to grant him bail.
A sheriff told the 40-year-old he had committed a "disgusting" offence.
Depute fiscal Saima Rasheed told Dundee Sheriff Court that Townsley had entered the Wickes store, despite a bail condition banning him from the premises.
Police were called and Townsley became aggressive and was restrained to the ground, sustaining an injury.
'Infect them all'
Miss Rasheed said an officer tried to administer first aid, adding: "He was warned to keep still and keep his hands away from police but deliberately wiped his hand on the face of one officer causing blood to be transferred to said officer.
"While being held he assaulted another officer by scratching his left arm with his fingernails, opening up the skin and causing it to bleed.
"The accused also purposely spat at another officer, striking her on the face with some entering her mouth.
"He stated he had 'the virus' and was going to infect them all."
After being remanded in custody following a court appearance the next day, Townsley spat at the depute fiscal with saliva landing in her hair and on her desk.
Townsley pleaded guilty to four charges of assault and breaching bail on March 20 and 21.
Sheriff Alastair Brown told Townsley: "Assaults involving bodily fluids of any kind are disgusting.
"They involve a great deal of anxiety for the victim and it is clear from your comments that you intended to cause that.
"Anyone who assaults anyone else engaged in a public duty can expect to go to jail."