Sweet treats for Trainspotting sequel crew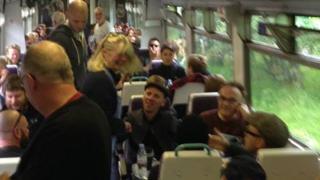 The cast and crew of the Trainspotting sequel enjoyed a surprise treat after a railway station tearoom was tipped off they would be passing through.
Director Danny Boyle and actors Ewen Bremner and Ewan McGregor were among those on the train when it stopped briefly at Rannoch station on Monday.
Rannoch Station Tearoom presented cake, tablet and scones to the crew during the two-minute stop.
The tearoom shared a picture of the event on social media.
Co-owner Jenny Anderson said: "We knew they were coming through, I'm a big fan of the films, and I just thought it would be nice if my colleague and I went on there in our pinnies with a couple of plates of scones and got to meet the cast."
The cast and crew were travelling to film in Corrour, which featured in the original 1996 movie.
Filming has already taken in place in Edinburgh and Glasgow for the sequel, which will be released next January.