Hundreds attend Orlando vigil in Dundee's City Square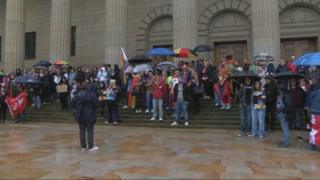 About 300 people have attended a vigil in Dundee to remember the 49 people who were killed in the Orlando nightclub shooting on Sunday.
A minute's silence was held at the event in City Square, where candles were lit in memory of the victims.
The event was organised by Dundee University's LGBT+ society, which had encouraged visitors to bring signs and banners celebrating LGBT pride.
Omar Mateen targeted Orlando's Pulse gay club before being killed by police.
Dundee LGBT+ society president Sally Melville said she had been overwhelmed by the public support for the commemorative event.
She said: "It was very important for us to organise a vigil today to remember the victims of the Orlando shooting because it shows solidarity with the international LGBT community.
"Cities around Scotland and around the world have staged similar vigils and we wanted to show our support in Dundee as well."
The rainbow Pride flag, a symbol of the lesbian, gay, bisexual, and transgender community is being flown at Dundee's City Chambers to commemorate the victims.