Healthcare services at HMP Castle Huntly criticised by inspectors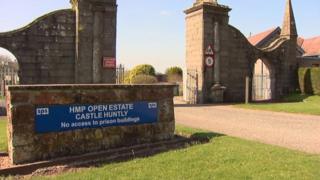 Healthcare services at HMP Castle Huntly, Scotland's only open prison, have been criticised in a new inspection report.
It noted "significant" staff shortages, which saw health care personnel frequently moved between Castle Huntly and Perth Prison to cover services.
There were also concerns regarding the issuing of controlled drugs.
The report said the prison was, overall, "a well-run establishment, with a clear sense of direction".
The prison, which can hold 284 inmates, is located beside the village of Longforgan, three miles west of Dundee.
It prepares prisoners for release with the aim of "reducing the risk of re-offending and contributing to safer communities."
HM Chief Inspector of Prisons for Scotland, David Strang, said relationships between staff and prisoners were "mutually respectful and amicable" but poor facilities in residential areas "stood in marked contrast to the quality of other prisons in Scotland built in the last decade".
Staffing shortages
The report stated: "Staffing shortages in the healthcare team were significant and had an adverse impact on service delivery.
"NHS Tayside were responsible for the healthcare provision in both HMP Perth and HMP Open Estate.
"Staff were frequently moved to cover services between the two prisons. This resulted in a lack of continuity of care."
The report noted that the prison's health centre did not provide a range of clinics, care planning or health promotion "that we would expect to see to meet the health needs of the prisoners".
It said: "We also saw the distribution of controlled drugs with only one signatory, which we were told was a frequent occurrence due to staff shortages. This was a concern.
"We raised this with NHS Tayside who agreed to take immediate action to ensure that two signatories were in place during the administration of controlled drugs in the prison."
'Valuable role'
The inspection noted that many of the prisoners were engaged in work placements which provided them with "good opportunities to develop their skills in a work environment in the community".
Seven out of the ten standards used to inspect and monitor Scottish prisons were rated as "satisfactory" at Castle Huntly, with the remaining three deemed "generally acceptable".
Mr Strang said: "I consider that HMP Open Estate plays a valuable role in the preparation of prisoners for their return to the community.
"It is essential that there is a clear understanding of the strategic role that the Open Estate plays in the wider direction of the Scottish Prison Service.
"This would assist both those who work at HMP Open Estate and those at closed prisons who are responsible for preparing prisoners for their onward journey".