City's bid for Stone of Destiny return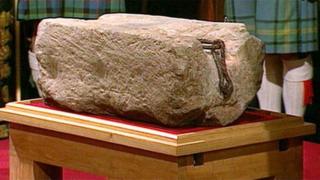 The Stone of Destiny could be brought to Perth as the centrepiece of a multi-million-pound cultural investment.
Councillors will be asked next week to approve a formal request to have it transferred from Edinburgh Castle.
The stone was kept at Scone Abbey near Perth but was captured by Edward I in 1296 and taken to Westminster Abbey.
Perth and Kinross council leader Ian Miller said the stone was a "major part of Perth's place at the ancient roots of Scotland's story."
Councillors will discuss a proposed £20m investment next week to transform Perth Museum & Art Gallery into a cultural attraction highlighting the city's ancient heritage, and to create a major new visual arts venue and social space.
Mr Miller said: "The ancient Kings of Scotland were crowned at Scone Palace, with the stone bearing witness.
"Investing in our existing museum with its nationally recognised collection, and in a significant new venue will help to deliver on that potential.
"The stone will help to deliver this in a relevant setting where it can be seen by local people and worldwide visitors, in venues which tell the story of our ancient roots and modern Scots - a story of local, national and global relevance."
The stone, which was used for the coronation of Scottish monarchs, was removed from Westminster Abbey by four Scottish students on Christmas Day 1950 and found at Arbroath Abbey four months later.
It was returned to Scotland permanently in November 1996 and is currently displayed beside the crown jewels of Scotland in Edinburgh Castle.