Knife attacker jailed for attempted murder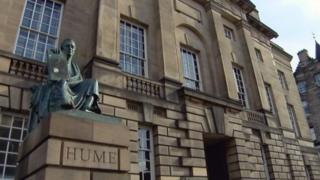 A Perth man who committed "brutal and unprovoked" knife attack on another male has been jailed for eight-and-a-half years.
Ryan Stewart repeatedly slashed and stabbed Dale McDonald, who was heard shouting: "He is going to kill me."
A judge told Stewart that one of the stab wounds was "very close to being fatal."
The 30 year old admitted a charge of attempted murder at the High Court in Edinburgh.
The court heard that Mr McDonald sustained 20 wounds and one injury penetrated the sac around his heart.
Stewart's defence counsel Ronnie Renucci said a mix of steroids and alcohol taken by his client had "contributed to the incident."
The court heard that Stewart had turned up at Mr McDonald's home and asked for money for a bus fare. He was invited in but an argument later broke out.
Stewart produced a craft knife and held it to the 24-year-old's face before digging it in to the left side under his eye.
'Slashed repeatedly'
Prosecutor Keith O'Mahony said: "The accused slashed Mr McDonald repeatedly on his left cheek with the craft knife causing blood to spatter from his face."
Stewart then went into the kitchen and grabbed another knife from a worktop and began repeatedly stabbing his victim with the second weapon. Mr McDonald fell to the floor and began shouting for help.
Neighbours heard him shout "Get out of my house, get out of my house" and "Get him off me, he is going to kill me".
Stewart admitted assaulting Mr McDonald at his home in Perth on 5 April by repeatedly slashing and stabbing him on the face and body to his severe injury, permanent disfigurement and to the danger of his life.
Mr Renucci told the court: "It is a matter of deep regret and remorse to him. He appreciates this must have been a frightening episode for Mr McDonald."
Lord Glennie told Stewart: "You have pled guilty to a brutal and unprovoked attack on someone who was already known to you.
"It was a completely senseless attack for which it was accepted, on you behalf, that there can be no excuse.
"But for the intervention of others and a slice of good luck you would have been facing a murder charge."