River Tay rescue man treated in hospital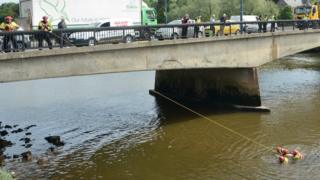 A man has been treated in hospital after being rescued from the River Tay at Perth.
Police officers, who were dealing with a separate incident, threw an emergency line into the water after being alerted by passersby.
Four members of the Scottish Fire and Rescue Service's swift water rescue unit retrieved the man from the river.
He was lifted up stairs at the Queen's Bridge by the rescue team and taken to a waiting ambulance.
The incident happened shortly before 10:00 on Wednesday.