Honorary degrees for Snow Patrol singer and dementia rights campaigner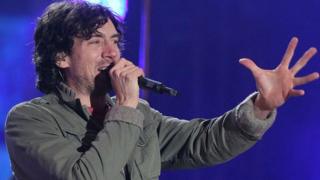 Snow Patrol singer Gary Lightbody and dementia rights campaigner Amanda Kopel will be honoured at Dundee University's summer graduations.
Maggie's Centres co-founder Dr Charles Jencks and former Wellcome Trust chairman Sir William Castell will also receive honorary degrees.
Dundee University graduate Mr Lightbody formed the band that would become Snow Patrol at the institution.
The ceremonies take place at the Caird Hall between 22 and 24 June.
Mrs Kopel, wife of former Dundee United footballer Frank, who died in 2014, has been calling for free care for dementia patients aged under 65.
Sir William Patey, a Dundee University graduate who became UK Ambassador in Sudan, Iraq, Saudi Arabia and Afghanistan, environmental science expert Professor Harindra Fernando, and Dr Hilal Al-Sayer, chairman of the Dasman Diabetes Institute board in Kuwait will also be honoured.
The university's principal, Professor Pete Downes, said: "In choosing our honorary graduates we are looking at people who are the best possible role models for our students and staff, and who have displayed excellence and achievement in their chosen fields."