Police campaign to weed out cannabis cultivations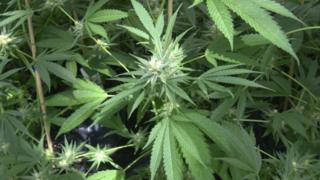 A campaign to raise public awareness of how to spot cannabis cultivations has been launched in Forth Valley.
Officers in the region have recovered cannabis with a street value of £88,699 since the beginning of the year.
The Weed Them Out campaign provides guidance to landlords whose premises may be used by tenants to cultivate the drug.
Other partners in the campaign include Falkirk Council, Scottish Power and the Scottish Fire and Rescue Service.
Police Scotland said that properties where plants have been seized are often significantly altered or damaged to optimise growing conditions.
Det Ch Insp Laura McLuckie said: "These cultivations can cause considerable damage to properties and those growing cannabis don't care about this, or the risk they're putting themselves in as well as others.
"Electricity meters are often bypassed, which causes a massive fire hazard.
"Some things to look out for are blacked out windows, perhaps with condensation.
"You may notice tenants coming and going from a property, but who don't necessarily reside at the address."
Sgt Gregor MacKenzie said: "Drugs have a huge effect on our communities and cannabis cultivations are often part of serious forms of organised crime.
"Information from the public and landlords is vital as it helps us to tackle drug crime and we will respond to any intelligence we receive."