Stars add spice to Dundee Flower and Food Festival 2016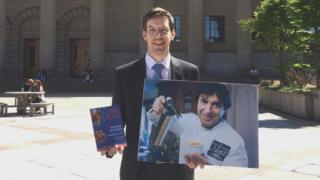 Celebrity chef Jean Christophe Novelli and the BBC's Incredible Spice Men are among the star guests at this year's Dundee Flower and Food Festival.
Beechgrove Garden presenter Carole Baxter and Scottish stunt fighting team The Clann will also appear at the three-day event in September.
The festival was attended by more than 20,000 people last year.
Celebrities attending the festival previously include Gordon Ramsay, Paul Hollywood and Mary Berry.
Dundee City Council's neighbourhood services convener, John Alexander, said: "It's become an institution and it's part and parcel of the city itself.
"Everybody knows it and I'm sure everybody in the city has attended it at once throughout their lifetime and it goes from strength to strength.
"There's a range of things open to everyone, whether you're a gardener or a foodie or just a family.
"One of the things we've been focusing on in recent years is Dundee as a city of culture and I think the Flower and Food Festival is part of that culture as we move forward with the regeneration of the city."
The Camperdown Park festival features a programme of cookery and gardening demonstrations, floral displays and competitions.
Tickets for the the festival, which runs from 2 September to 4 September, go on sale on Monday 6 June.