Glass box challenge 'gets people talking' about autism awareness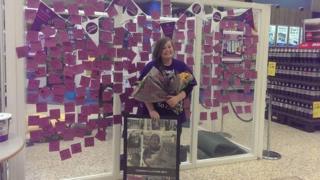 A Dundee woman who lived in a glass box for fifty hours to raise awareness of autism said it had "got people talking" about the condition.
Meg Jones, 21, whose brother has Asperger's syndrome, raised over £3,000 for charity during the challenge.
Messages of support were attached on sticky notes to the 3m by 2m box at Dundee's Tesco Riverside store.
Miss Jones said she thought the glass box was a "brilliant metaphor" for the isolation those with autism can face.
She said: "I have a lot of friends who have different forms of autism.
"It was difficult trying to speak to people on the other side of the box, I wasn't hearing what people were saying.
"A lot of families that have a child with autism have said that getting funny looks when they're out and about is something that they have to deal with on a day-to-day basis.
"So, there were a lot of people walking past and just looking at me like, 'what on earth is she doing in a glass box?'"
Miss Jones said the lack of sleep due to the store's constant lighting was the hardest part of the challenge.
She said: "Other than that I really enjoyed it.
"I don't think it's talked about as much as it should be. It definitely has got people talking about it.
"I had a lot of parents of autistic children and even autistic children themselves coming up to me while I was in the box.
"It was really humbling. It was lovely having people coming to speak to me about their experiences with autism."