New Dundee railway station concourse plans on track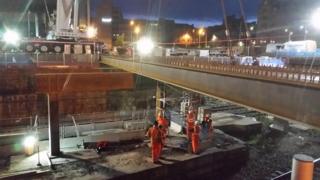 A key stage in the construction of the new Dundee railway station concourse has been reached with the installation of 46 support beams.
The beams, which each weigh 18 tonnes, will support the concourse and buildings over the main east coast rail line.
A mobile crane lifted more than 500 tonnes of steel during the installation operation.
Work on the £28m project is expected to be completed in early 2018.
Will Dawson, convener of Dundee City Council's city development committee said: "Anyone who has taken a train to or from the station in the past few weeks is bound to have seen for themselves the great progress being made on the new concourse and its associated hotel development.
"Within the past few weeks our contractors Balfour Beatty have been cracking on with the foundations for the development, completing substantial piling works in April.
"Recent good weather has been critical in keeping us on programme so that we can install the beams to the timetable agreed with Network Rail that lets work over the tracks take place during the night."