Dundee Design Festival showcases past, present and future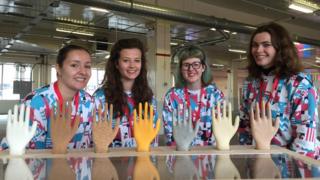 A former Dundee print works has been transformed into a multi-gallery exhibition space for the city's first design festival.
The event, which marks Dundee becoming the UK's first UNESCO City of Design, is being held at publisher DC Thomson's West Ward Works.
The four-day festival's theme is "Place, Work, Folk, Design'.
Scottish designers, including forensic jeweller Maria Maclennan, will speak and exhibit at the festival.
The print works, which produced five million books a year in its heyday and closed in 2010, has been turned into a temporary exhibition space featuring three galleries.
Designers working with textiles, gaming, digital imaging and architecture are among those taking part.
Research projects, including designing prosthetic hands for amputees and re-designing smoke alarms, will also feature at the festival.
Visitors can withdraw a limited edition "Dundee bank note" from NCR cash machines installed at the venue and take part in workshops in gaming, weaving, jewellery and comic book design.
More than 200 local primary school children were given a preview of the festival ahead of its opening on Thursday.
Delegates from fellow UNESCO cities of design Graz, Shenzhen and Saint-Etienne will also participate in the event.
Festival producer Siôn Parkinson said the event had "something for everybody".
He said: "We're trying to approach this for a wide-ranging audience.
"There are workshops, talks from some extraordinary people not just from design backgrounds but from science education and healthcare.
"It's been one of these things where all the cultural organisations and the design community has pulled together to make it happen.
"Although this is a relatively short period to run such a large-scale event, I'm looking forward to seeing how we can punch beyond that.
"Any festival is about bringing people together."