Harris Academy welcomes pupils to new £31m building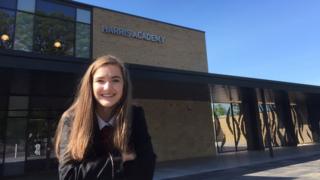 Dundee's Harris Academy is set to open the doors of its £31m replacement building to senior pupils.
The new school includes a swimming pool, recording studio, four badminton court games hall and a science hub.
Construction of the new school began in 2014 following demolition of the previous 1931 building.
Original features, including the clock tower and the stone entrance portico, have been retained and are displayed at the new building.
Pupils and staff moved to the former Rockwell High School while the new building was constructed.
The new school will open for senior pupils in June, with the building open to all year groups in August.
Pupils are also transferring to Harris Academy from Menzieshill High School, which councillors voted to close last year.
Head teacher Barry Millar said pupils were "really excited" to see the new building.
He said: "They can't wait to get in.
"For the next two weeks we've got different year groups in from both the Harris campus and the Menzieshill campus coming together to work with their new guidance teacher and new classmates."
Dundee City Council's children and families service convener Stewart Hunter said: "This new school will also become a valuable community asset once it opens its doors for activities and events.
"Harris Academy is a secondary school which is taking its long tradition into an exciting new future."
New school captains Sam Pirrie and Kirsten Ferrier said: "The building is fantastic and we can't wait to get in and use it.
"Getting the chance to start our new courses in the new building in June is a great way for pupils from both schools to start to work together."