Intruder risks osprey eggs hatching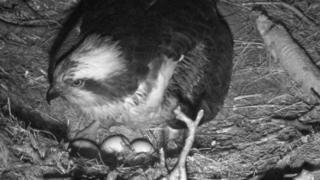 A human intruder acting out of "sheer ignorance" could have jeopardised a pair of nesting ospreys hatching their eggs, according to the Scottish Wildlife Trust.
The intruder was spotted within the exclusion zone that surrounds the birds' nest at the Loch of the Lowes nature reserve in Perthshire on Monday.
The birds were disturbed and left their nest for around 15 minutes.
The three eggs are expected to begin hatching on 19 May.
Charlotte Fleming, Perthshire ranger for the Scottish Wildlife Trust, said: "I don't believe that this was an attempt to steal eggs, it feels more like sheer ignorance, as this individual would have passed several signs telling them to stay away.
"This unfortunate incident is a reminder that human interference still poses a very real and present threat to the breeding and long-term conservation of birds such as our ospreys.
"Disturbing them, regardless of any intent, is a wildlife crime."
Potential predators
The female bird, nicknamed Lassie, and her mate have previously defended their nest against buzzards and other ospreys.
Ms Fleming said: "If the ospreys leave their eggs, there is a chance that predators such as buzzards and crows could sneak in and eat them.
"The eggs also need to be kept warm and prolonged exposure could increase the chance that they fail to hatch."
Lassie, known officially as Lowes Female 15 or LF 15, hatched three chicks at the reserve last summer.
Once extinct in the UK, there are now around 240 breeding pairs of ospreys thanks to the efforts of nature conservation charities including the Scottish Wildlife Trust.
The Osprey Protection Programme is supported by the People's Postcode Lottery.