Almond Valley developers to appeal councillors' rejection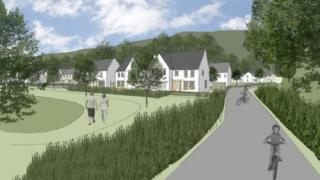 Backers of a residential development in Perth will appeal a decision by councillors to refuse the proposal.
Councillors rejected the proposals for Almond Valley Village, which would include 1,500 houses and a new school.
The application had been recommended for approval by planning officers but was refused at a meeting of Perth and Kinross Council's development management committee.
The developers will now lodge an appeal with the Scottish government.
The Pilkington Trust and Stewart Milne Group Ltd had hoped to get the go-ahead for the development at land adjacent to Huntingtowerfield and Ruthvenfield.
The application received 85 representations of objection, with concerns including impact on air quality and an adverse impact on existing housing.
A report to the committee said Scottish Water, Scottish Natural Heritage, and Sepa had no objection to the development.
Jonathan Henson of Pilkington Trust said: "We are really disappointed that the councillors have turned down the application against their own legal advice.
"We really see this as a missed opportunity for Perth and Kinross to embrace the wider Scottish government initiative to tackle the shortage of homes within Scotland.
"The proposed development was going to provide 25% affordable housing, and it remains our view that Perth should embrace its newly-found city status and provide the necessary housing infrastructure to cater for one of Scotland's fastest-growing populations."
A separate 3,000-home development at the Bertha Park site to the north west of Perth was approved at the development management committee meeting.
The £1bn project will be built over 30 years by Springfield Properties and is expected to create more than 2000 jobs.