Pupils relocated as Balfron High School repair work continues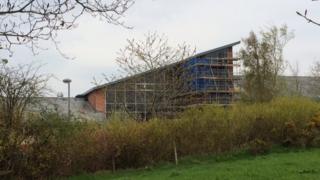 Pupils at a Stirlingshire school partially closed by structural problems will be relocated to other secondaries while repair work is carried out.
Balfron High School S1 to S3 pupils will be bussed to the three receiving schools from Friday.
A total of 440 pupils will not be attending the school this week after issues with walls were discovered during precautionary checks.
SQA exams for S4 to S6 pupils continued at the school on Monday and Tuesday.
Stirling Council said repair work was taking place outwith exam hours.
A council spokesman said: "Pupils will be relocated by house rather than year group as we believe this is the best way to ensure they still have full access to pastoral support as well as to the curriculum.
"Pupils from Endrick House will go to St Modan's High School, those from Campsie House will go to Stirling High and pupils from Lomond House will go to Wallace High School.
"This will be a temporary arrangement and plans are currently being developed for alternative on-site provision at Balfron as soon as possible.
"It was fantastic to see all three schools tweeting today that they are looking forward to welcoming Balfron pupils and staff."
Staff across schools have been working closely with each other to ensure a smooth transition.
The school was built under a private finance initiative about 15 years ago, but not by the firm involved with recent problems with Edinburgh schools.