Dundee High School's £16m arts centre given go-ahead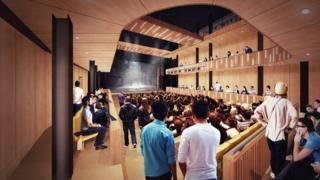 Dundee High School has been granted planning permission for a £16m arts centre at the site of a former city centre post office.
The centre will include a 300-plus seat auditorium, a recording studio, and technical and performance spaces.
The former head post office in Meadowside dates from 1898 and was taken over by the school in 2013 after lying unused for several years.
Work to strip out the building has already been completed.
The school said the new centre would provide "first-class learning and teaching facilities" for art, drama, music and culinary arts.
It has launched a five-year fundraising drive, which it claims is "the most ambitious capital campaign ever embarked upon by a UK independent school".
The school's rector, Dr John Halliday, said: "It is at the heart of the city and will be offered for community use.
"I'm especially pleased that the project also meshes very nicely with creative celebrations like Ignite Dundee and the Dundee Design Festival.
"The whole school community is already very excited by the project."
A tendering process for the centre's construction will take place after the final design work is completed.