Work continues to reopen Balfron High School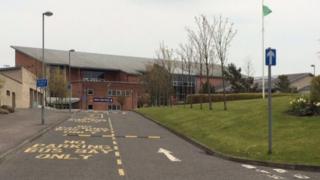 Work is continuing to fully open Balfron High School in Stirlingshire after it was partially closed due to structural problems.
A total of 440 pupils will not be attending the school this week as a result.
Issues with walls in the stairwell, gym and atrium were discovered during precautionary checks.
SQA exams for S4 to S6 went ahead on Monday as planned, with areas set aside for pupils to study.
A Stirling Council spokesman told BBC Scotland that "every effort" was being made to minimise disruption, and that no repair work would be carried out during exam hours.
Details of temporary alternative provision for S1 to S3 pupils will be announced on Tuesday.
The spokesman said the Balfron staff had been in contact with colleagues at other Stirling schools to arrange this, and that "all aspects" of provision, including transport and catering were being considered.
Plans are also being developed for "alternative on-site provision" at the school.
The school was built under a private finance initiative about 15 years ago but not by the firm involved with recent problems with Edinburgh schools.
A wall at the school was damaged during winter storms but no-one was injured.