Holyrood 2016: SNP hold Tayside and Central seats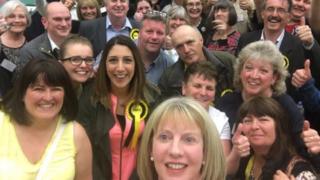 The SNP has held its constituency seats in Tayside and Central, with the Scottish Conservatives increasing their share of the vote across the regions.
Labour won four seats in the Central Scotland list result with the remaining three going to the Conservatives.
The Mid Scotland and Fife regional list saw four seats going to the Conservatives, two to Labour and a seat for the Scottish Green Party.
Voter turnout increased in each constituency compared to 2011.
The SNP's John Swinney and Roseanna Cunningham were re-elected to their respective constituency seats of Perthshire North and Perthshire South and Kinross-shire.
Mr Swinney's share of the vote dropped to 48.6% from 60.8% in the 2011 election, while Ms Cunningham received 42.4% of the vote compared to 51.5% at the last election.
Total voter turnout across both constituencies increased by almost 10,000.
Mr Swinney later tweeted: "My heartfelt thanks to the people of Perthshire North for placing their trust in me once more.
"I will serve each and every constituent."
The Conservatives' Murdo Fraser, the runner up in Perthshire North, was elected after topping the Mid Scotland and Fife regional list.
Voter turnout up
In Dundee, Shona Robison and Joe Fitzpatrick were re-elected to the Dundee East and Dundee West seats.
Mr Fitzpatrick received 16,070 votes, almost 2,000 more than in 2011, with Labour's Jenny Marra, receiving 7,242 votes.
Mr Fitzpatrick said: "Our majority is up and the turnout is up in both seats, which is important.
"It certainly seems that the Both Votes SNP message has got through."
In her speech, Miss Marra, who was re-elected in the North East list, said: "The SNP are having an incredible electoral victory.
"Labour has experienced these successes before and, mark my words, we will again when Scotland returns to progressive politics."
SNP hold Central
Michael Matheson was re-elected as MSP for Falkirk West, with a 1.6% increase in the share of votes from 2011.
Angus MacDonald held Falkirk East with 17,720 votes compared to 14,302 at the last election.
The Stirling and Clackmannanshire and Dunblane constituencies recorded the highest voter turnout in Tayside and Central, at 61.3% and 58.8% respectively.
Bruce Crawford was re-elected as MSP for Stirling, while Keith Brown held Clackmannanshire and Dunblane, both with reduced shares of the vote.
Graeme Dey was re-elected in Angus South and Mairi Evans retained Angus North and Mearns.
The SNP and Labour voter share in both constituencies dropped, while the Conservatives' increased.
When the North East list was announced at 09:00, the Conservatives had four list MSPs - Alex Johnstone, Ross Thomson, Peter Chapman and Liam Kerr. Labour had two - Lewis Macdonald and Jenny Marra - and the Lib Dems one with Mike Rumbles.