Five rescued in 'severe' Perth flats blaze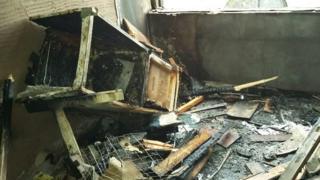 Five people have been rescued from a block of flats in Perth following a "severe" fire in a stairwell.
Sixteen people were also moved to temporary accommodation while fire crews battled to prevent the fire spreading to the roof of the building in South Street.
One woman was checked by ambulance paramedics at the scene but did not need hospital treatment.
The fire took place at about 03:15.
Scottish Fire and Rescue said the blaze, which it described as "severe", involved items stored within a drying area of the four-storey block.
The blaze melted light fittings and charred door facings, with the building's power having to be disconnected.
Station Manager Brian Robertson said: "On this occasion fire crews were required to lead residents to a place of safety after they were unable to make their own escape out of the building.
"This fire had the potential to be even more serious given the amount of combustible material in the staircase and drying areas."
A joint police and fire investigation has been launched into the incident.