Man jailed for life for murder of Perth jeweller Alan Gardner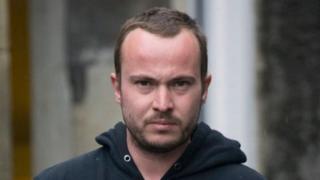 A man has been jailed for life for the murder of Perthshire jeweller Alan Gardner.
Nikola Zhulev, 31 will serve a minimum of 21 years in prison after being found guilty of killing Mr Gardner at his Balbeggie home in April 2015.
Judge Lady Rae told Zhulev he had carried out a "planned, premeditated killing" of a vulnerable man who he had "mercilessly exploited".
Zhulev was convicted in April by a jury at the High Court in Livingston.
The jury heard during the trial that Mr Gardner, who Zhulev described as "like a father" to him, was found dead at his Balbeggie home on 24 April last year.
The 49-year-old freelance jeweller had a head wound imprinted with the pattern from the base of a heavy pan found in the kitchen.
Ankles bound
Zhulev's DNA was found on the pan and his victim's body was discovered in his home, stripped to the waist and wrapped "like a cocoon" with his ankles bound.
The trial heard that Bulgarian national Zhulev was living in Perth and working as a kitchen porter and got to know Mr Gardner, who ran a jewellery business from his home.
According to a friend of the killer, Zhulev was spending at least £100 a day on heroin.
Zhulev was short of money for his rent in April last year and promised his new landlord that he would pay him in a few days' time.
He then carried out a series of internet searches on his phone, including 'how dangerous is a hit to the head?'.
After Mr Gardner's death, Zhulev was seen in the Money Shop in Perth trying to pawn jewellery.
The trial heard from Zhulev's friend who said Zhulev confessed that he had hit Mr Gardner over the head with a pan and killed him.
Zhulev had planned on disposing of Mr Gardner's body but ran out of time as police closed in.
Sentencing Zhulev at the High Court in Edinburgh, Lady Rae said: "You were convicted unanimously by a jury of the murder of a vulnerable man, in poor health, who mistakenly provided you with accommodation in his own home after you claimed you had nowhere to go.
"That decision led to his death because it was clear from the evidence led at trial that you mercilessly exploited him, stole from him and planned to kill him.
"This was, in my view, a planned premeditated killing.
"I find it impossible to accept that a man who plans to kill a defenceless, vulnerable man after admittedly stealing from him is truly remorseful for his crime.
"You are clearly a deceitful, calculating and callous individual."