Award-winning chef sentenced for cricket bat attack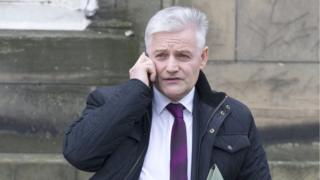 An award-winning Perth chef who attacked a man with a cricket bat has been ordered to carry out 240 hours of unpaid work.
William Deans was found guilty of repeatedly striking lettings manager Gary Cummings on the head and body.
Mr Cummings told a trial that Deans, a former Scottish Chef of the Year, was "foaming at the mouth" and had "completely lost the plot."
Deans, 53, denied the attack and claimed he was acting in self-defence.
A trial at Perth Sheriff Court was told that Mr Cummings arrived at his office to find Deans' vehicle parked in his space and went to his restaurant to ask him to move it.
He said a "heated exchange" followed and that Deans was "effing and blinding and screaming and shouting".
Mr Cummings said: "He then picked up a cricket bat and said 'I've got the right thing for somebody like you.'
"He started to swing it. He was swinging the bat above his head."
'Lost the plot'
Mr Cummings said he grabbed a bin to protect himself and Deans then struck him with the cricket bat.
He said: "I thought he was going to kill me. My wife was screaming.
"I was fighting for my life.
"He was foaming at the mouth and had completely lost the plot.
"He was extremely aggressive. I had been battered round the head five or six times and was dazed and concussed."
Deans, of Glenorchil View, Auctherarder, denied using the cricket bat to repeatedly strike and injure Mr Cummings on the head and body near Deans Restaurant in Perth on 7 June last year.
He said: "I clobbered him with the bat once. It was left by a customer years ago.
"I thought 'I'm going to have to protect myself, my life's in danger here.'"
Solicitor David Holmes, defending, said: "The consequence to his business of a prison sentence would be significant. It would close."
Sheriff Lindsay Foulis told Deans: "I found you guilty of assaulting an individual whilst armed with a weapon.
"It was used to repeatedly strike him on the head and body in circumstances where you had 'lost it.'
"It may be that your skills might be used to benefit persons in the community who find themselves in unfortunate circumstances."