Racing pigeon Sparky found covered in 'cooking oil'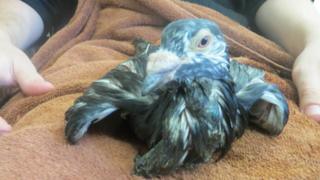 A racing pigeon found coated in what is thought to be cooking oil has been treated by animal welfare staff.
The bird was discovered by a passer-by as it struggled to fly in a garden in the Fintry area of Dundee on 23 April.
It was taken to the Scottish SPCA animal rescue and rehoming centre in Petterden, where staff named it Sparky.
Assistant manager Dale Christie said: "Sparky has been given several baths in order to remove all of the oil and he is recovering well after his ordeal.
"We think the substance is cooking oil although we cannot say for sure."
Mr Christie said the bird was unable to fly due to oil covering its entire body and weighing down its feathers.
He said: "He had grass, twigs and other debris stuck to him and he would have been extremely uncomfortable.
"We're not sure how he managed to get himself in this sticky situation but we can only assume he has come across waste that was not disposed of correctly in a garden.
"We are trying to trace Sparky's owner through his ring number so they can be reunited as soon as possible."