Fatal accident inquiry begins into newborn girl's death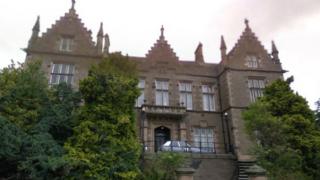 A fatal accident inquiry has begun into the death of a newborn girl at Montrose Royal Infirmary's community midwife unit.
Nevaeh Stewart died three-and-a-half hours after she was born at the unit in September 2012.
Her mother, Kimberly, 31, and father Gary, 30, gave evidence at the opening of the inquiry at Forfar Sheriff Court.
The inquiry, before Sheriff Pino di Emidio is expected to run for seven days between now and September.
Mrs Stewart, who had her three previous children at the unit, told how she went into labour at her home in Auchenblae, Aberdeenshire, on 29 September, 2012.
She went to the maternity unit in Montrose, which was staffed only by midwives with no doctors on hand, where she had planned to give birth in a pool.
When Nevaeh, the family's fourth child, was born she was said to be "pale" and was immediately rushed into another room for treatment.
Mrs Stewart said she was told to have a shower by midwives before a doctor entered the birthing room a short time later and asked her if she wanted to sign a do not resuscitate order.
Mrs Stewart said she had only been given one chance to hold Nevaeh before she was taken away by midwives.
Mr Stewart, who is representing the family in the proceedings, asked his wife: "What should have happened when it was noticed Nevaeh was not in a normal condition?"
She said: "I think a blue-light ambulance should have been called straight away. That's the quickest way to get help."
'Emergency response blackspots'
In his own evidence, Mr Stewart said the family had later discovered that a neo-natal transfer unit can take "several hours" to arrive at midwife-led maternity units.
He said: "It seems that the NHS are of the opinion that community midwife units are emergency response blackspots.
"I presumed that if there was an emergency an emergency response team - a flying squad - would be brought in to fix the situation.
"I think the expression used was that they would 'weech' us down to Ninewells if there was a problem.
"If you have a home birth you can get a 999 response.
"The exception is in community midwife units where there is no emergency response and you may have to wait up to six hours as there is no emergency squad to go to any unit in Scotland."
The inquiry continues.