Man admonished after double amputee attack in Tesco Express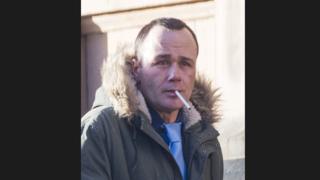 A man who admitted attacking a double amputee with a shopping basket in a supermarket has been admonished by a sheriff.
Murray Dewar, 45, attacked 83-year-old Jack Wemyss in the Tesco Express store in Dundee's Strathmartine Road last year, leaving him seriously injured.
An argument between them started after Dewar blocked the path of Mr Wemyss's mobility scooter.
Dewar, from Dundee, pled guilty to the attack which happened on 20 November.
Fiscal depute Muhamad Sadiq told Dundee Sheriff Court: "The complainer shouted 'go on, hit us'.
"The accused then struck the complainer in his face with the shopping basket he was carrying. That resulted in a cut above the left eye."
Dewar, from Dundee, pleaded guilty to a charge of assault to injury at a previous hearing.
Defence solicitor Emma Somerville said: "There is a good behaviour report here today - he has not been in trouble since this."
Sheriff Alistair Carmichael admonished Dewar and said: "You caused Mr Wemyss a considerable amount of distress and I hope you are sorry for what you have done.
"I see you are nodding your head, so I'm going to admonish you."
The admonishment means Dewar now has a criminal record but he will not face any further punishment.
'Hard to accept'
Mr Wemyss said: "It's disgraceful really.
"I feel terrible. I've got to go and get an eye test because I think it's affected my vision. I don't seem to sleep at nights now either.
"People I know have said they've noticed a difference in me since it happened. I find this very hard to accept.
"He should have at least been fined. Justice hasn't been done."
His son Peter, said: "The decision made was unbelievable.
"He's a double amputee who is defenceless to the point of being helpless. This has changed his life forever.
"This has destroyed his confidence and now he's scared to go out and he has depression which I think is a direct result.
Mr Wemyss jnr added: "He feels like he's been abandoned by the judicial system.
"I'm shocked, outraged, despondent and disgusted. I thought common sense would have prevailed and he would have been given community service and a face-to-face apology."