Details of £5m Dundee drinking water supply improvement announced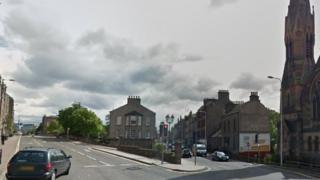 Details of the first part of a £5m investment in Dundee's drinking water infrastructure have been announced.
Scottish Water said the relining and flushing of existing water lanes would provide high-quality water "well into the future".
Businesses and residents in the Perth Road area, where the work will be carried out, will attend an information event on Thursday.
The work will begin in July and is expected to last about eight weeks.
Scottish Water said the work includes re-lining the internal structure of the mains or cleaning them by swabbing and flushing, which cleans out deposits that have built up.
A managed one-way system will be in place for the works and parking on the section of Perth Road, which includes a number of shops, restaurants and pubs, will be reduced.
'Impact on businesses'
Dundee & Angus Chamber of Commerce chief executive Alison Henderson, said: "It's good to see the community engagement and publicity campaign that Scottish Water are delivering to let as many people as possible know about the planned work
"However, we do appreciate that these works will have an impact on businesses within the Perth Road and would hope that works are carried out as quickly as possible, in order to minimise any detriment."
The work is expected to begin at the Hawkhill junction end of Perth Road and work toward the city centre.
Ruaridh Macgregor, Scottish Water's community team manager for Dundee, said: "Water mains can vary in age and the upgrading of these essential supply pipes is vital to ensure we achieve maximum water quality and security of supply for our customers."