Campaign to save ancient trees from 'Macbeth woods'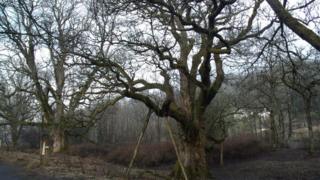 A campaign is being launched to save two ancient trees thought to be from the forest immortalised in Shakespeare's Macbeth.
The Birnam Oak and Sycamore were damaged when Storm Desmond struck last December.
The storm caused severe flooding in the Birnam Woods, near Dunkeld in Perthshire.
Ultrasound scans have revealed damage to the trees and soil around them.
Tree surgeons warned The Birnam Oak could split in two because its trunk is rotten but its heavy branches are still growing and pulling it apart with their weight.
The sycamore is also weak and has a hollow trunk.
'Lost forever'
The trees are thought to be the sole survivors from the medieval forest made famous by Shakespeare and still attract thousands of visitors a year.
In Macbeth, the witches consulted by the Scottish king over his future tell him he shall "never vanquish'd be until Great Birnam Wood to high Dunsinane Hill shall come against him".
But he is undone when his enemies use tree branches from Birnam Wood to camouflage their advance.
Perth and Kinross Countryside Trust believes that unless urgent action is taken, the legendary trees could be lost forever.
Conservationists will host a public meeting on Wednesday evening to set out how to save them.
'Rotted out'
Trust manager Morag Watson said: "Obviously the trees are extremely elderly and we are constantly monitoring them.
"What we have found is that part of the oak's trunk has rotted out, but its very long branches are continuing to grow.
"This is putting a lot of pressure on the trunk and, if we don't do anything about it now, it could simply split in half."
She added: "What we are doing is looking at ways of shortening the branches. We believe we can do this without changing the appearance of the tree, but at the same time taking a lot of pressure off the trunk."
A huge hole has been found inside the Birnam sycamore, which is also a survivor of the famous forest.
Ms Watson said: "We carried out an ultrasound scan on the tree and discovered it was hollow inside.
"Three people, standing up, could actually fit inside it.
"We know how important these trees are to people and we want to keep everyone up to speed with our plans."