Driver who 'used vehicle as a weapon' against passerby is jailed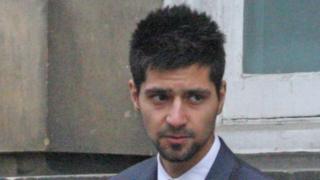 A driver who struck another man with his car before throwing him from the bonnet has been jailed for five years and eight months.
A court heard Akib Aslam left Steven Ballantyne so badly injured he was unable to walk for almost four months following the incident in Grangemouth.
Prosecutors said the 22-year-old had used his "vehicle as a weapon".
Aslam's defence advocate said his client was "an immature man" who had committed a "gross act of stupidity".
Aslam, of Stenhousemuir, had previously pled guilty to assaulting Mr Ballantyne to his severe injury, permanent disfigurement and impairment.
The assault took place in October 2014 as Mr Ballantyne walked home from a night out.
Aslam and others had been in his Ford Fiesta when one of the group shone a laser pen at Mr Ballantyne and his friends.
'Landing badly'
Aslam's car was later heard speeding up while on the wrong side of the road.
Prosecutor Iain McSporran told the court: "Steven described Aslam as driving like an idiot, making his tyres squeal, and pulling the handbrake up to turn the vehicle to follow them.
"He drove his car deliberately at Steven, who was unable to avoid the collision.
"He feared that Aslam was going to drive into a parked vehicle but he started weaving the car from side to side causing Steven to be thrown from the bonnet to the side."
The court heard Mr Ballantyne ended up "landing badly" on the road.
Mr McSporran said: "Whatever prompted Aslam and his friends to follow and harass Steven and his friends cannot begin to explain why he elected to use his vehicle as a weapon."
Mr Ballantyne suffered serious leg injuries in the attack.
The court heard that Aslam told social workers that Mr Ballantyne had jumped onto his bonnet before he slammed on his brakes.
Judge Lord Boyd told Aslam it was "an obvious lie".
He said: "I note that you consider Mr Ballantyne has been deliberately exaggerating the extent of his injuries.
"That comment merely underlines your callous disregard of the consequences of your actions."