Security guard alcohol thief 'thought CCTV system was faulty'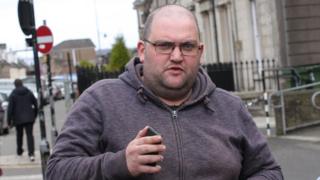 A security employee stole more than £1,000 worth of alcohol in one weekend from a warehouse he was supposed to be guarding, a court has heard.
Andrew Campbell mistakenly thought that CCTV at Stirling's Barbour European warehouse was faulty.
Campbell was the only employee on duty at the transport and storage firm's premises at the time of the thefts.
A stock check later revealed at least 40 bottles of spirits were missing from boxes.
Adrian Fraser, prosecuting, told Stirling Sheriff Court that Campbell, 32, started his shift at 18:30 on 13 November.
Mr Fraser said: "He was the only member of staff on site and he would have been the only member there for the weekend.
"He'd been told at the start of his shift that the CCTV system wasn't working, however that turned out not to be the case."
The system recorded Campbell stopping at a pallet and pulling a box open, before selecting a number of bottles of spirits, re-sealing the box, and going back to his office.
Never recovered
The court was told he did the same thing on the following night.
Mr Fraser said: "To complete the weekend, he was seen on CCTV on the Sunday, stopping at a pallet, and again removing bottles of spirits from a box he had opened."
The depute fiscal said that on the Monday, an employee at the warehouse noticed a box with a lid that appeared to have been "taped down in a strange manner".
Mr Fraser said: "When he opened this box, it was almost completely empty.
"A stock check revealed at least 40 bottles of spirits were missing, worth a total of £1,069."
The court was told none of the spirits taken were ever recovered.
Campbell, of Raploch, Stirling, pleaded guilty to theft from Barbour European's base at the city's Broadleys Industrial Park.
Sheriff Wyllie Robertson deferred sentence until 18 May.