Anti-doping expert Dick Pound addresses young Scottish athletes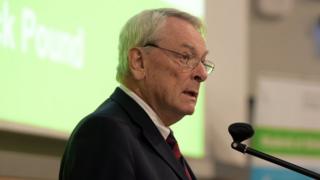 A world authority on doping in sport has addressed young athletes at Scotland's University for Sporting Excellence.
Dick Pound, founding president of the World Anti-Doping Committee (WADA), gave a public lecture on the subject at Stirling University.
Mr Pound highlighted the need for better protection for whistleblowers.
Four swimmers from the university will represent Team GB at this summer's Olympic Games in Rio.
The former vice-president of the International Olympic Committee claimed those who are willing to speak up are not welcomed by many sporting organisations.
'Severe consequences'
Mr Pound said: "Certain sports need to admit there is a problem with doping but there is a huge amount of self-denial.
"Once they admit that doping has taken place, it looks bad for them.
"There will be severe consequences for their reputation as well as income from sponsorship."
Former world number one tennis player Maria Sharapova was provisionally suspended after revealing in March that she failed a drugs test at the Australian Open.
The 28-year-old Russian tested positive for meldonium, a substance she had been taking since 2006 for health issues.
Mr Pound said he believed the gap between sports cheating and detection "continues to narrow" and warned against not tackling the issue.
He said: "If doping continues it will be impossible to encourage the next generation of athletes to compete.
"In the long run, it's education that's going to provide the answer to doping in sport."
Dr Paul Dimeo, of the university's faculty of health sciences and sport, was recently appointed chairman of USA Cycling's anti-doping committee.