Man fined for punching teenagers at boys' football match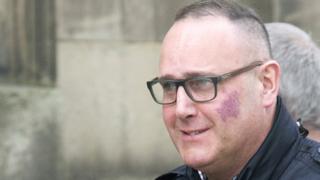 A father who punched two teenagers during a boys' football match has been fined £1,500.
Ian Scobie, 44, was watching his son play for Monifieth when he hit two rival supporters at Blairgowrie's Davie Park on 30 August last year.
The referee called off the boys' under-16 match after he was threatened by spectating mothers and a player was bitten.
Scobie was found guilty of assault at Perth Sheriff Court.
One of his victims, who was 16, told the court: "He grabbed me by the throat and punched me.
"My nose was swollen. He grabbed (my friend) by the scruff and punched him to the ground."
Scobie's solicitor Kevin Hampton said: "This man doesn't dispute he slapped the boys, because these boys were about to slap him.
"They were saying things about people getting stabbed after the game and making reference to 'Dundee minks'.
"It's suggested these boys were causing bother.
"The referee in his match report says he was threatened by female supporters of the Blairgowrie team."
'Altogether unacceptable'
Mr Hampton said the referee's match report also recorded an incident involving one player biting another in the hand until he bled.
Scobie told police: "I called the parents of the football team to apologise for my actions.
"I slapped one and pushed the other. I hold my hands up to what I've done - it's not like me."
Scobie, of Dundee, was found guilty of two charges of assault by punching a 15-year-old and 16-year-old boy.
Sheriff Fiona Tait told him: "You appear as a first offender, but clearly your conduct, involving assault on children - albeit near adulthood - was altogether unacceptable."